News
2023 Best Swimming Pool Baby Water Float Buying Guide
by Tony on Aug 07, 2023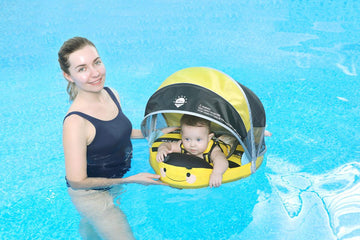 Summer is everyone's favorite season, a time to relax, unwind, and spend quality time with loved ones. There's nothing better than taking a dip in the pool or ocean, but what if you have a baby who can't swim yet? That's where the Mambobaby Float comes in.
Our Baby Pool Float is the perfect way to introduce your little one to the water while ensuring their safety. Suitable for newborns up to 3 years old, our float is designed to help babies gain confidence in the water and learn how to swim.
With so many options out there, it can be overwhelming to choose the right baby pool float. However, the Mambobaby Float stands out from the rest. Our float is adaptable to your baby's growth, making it a long-lasting investment in their swimming skills.
At Mambobaby, we understand the importance of safety and comfort. Our float is made from high-quality materials, ensuring that your baby is secure and cozy. Plus, our designs are fun and engaging, making swim time even more enjoyable for your little one.
Read on to find the best float for you and your baby!
1. Are Flotation Devices Safe For Babies?
Safety always comes first, especially with our littles. Mambobaby Float got the inspiration from the lifebuoy of the ship. There is no air leak or punctures risks without inflation. When we have better choices, why should we take the risk of drowning accidentally to air leakage? Compared to inflatable swimming floats, our produts are safer as they are free from air leakage. Besiders, they have greater buoyancy on water and are equipped with double safety buckles. However, they must be used in shallow water under adult supervision to ensure greater safety of babies.
2. What To Look For When Buying A Baby Float?
There are a few things to keep in mind when shopping for a baby float — including its material and cost. But perhaps more importantly, there are three keys you need to keep in mind: sun protection, safety, and size.
Baby floats should have sun protection. Most pediatricians agree that babies should be kept out of direct sunlight until they are at least 6 months old. But even after the first 6 months — and with your favorite baby sunscreen on — a baby's skin is still incredibly delicate. That's why you might want to buy a canopy baby float that's designed for extra sun protection. (But don't forget the baby sun hat when you go to the pool!
The Mambobaby float has a removable canopy, and the baby float comes with a breathable and removable UPF50+ awning to protect your baby's skin from the sun and enjoy summer anytime, anywhere.
And the Mambobaby float is a safe material for babies, the newly upgraded air free floats, characterized by Pearl-Foam air free liner, are convenient and air free, safe and air-tight, light and elastic, skin-friendly and environment-friendly, making it 100% safe, non-toxic, and skin-friendly for babies. Besides, they have been accredited by GB6675, EN 13138 and ASTM F963 safety standards. Please rest assured to use them.
3. Best Baby Pool Floats – Mambobaby float
Are you ready to let your baby touch the water? Consider our Mambobaby baby pool floats newest with sun shields, they help protect babies from sun exposure and drowning. When used under close supervision, they're perfect for your baby's next pool party.
To help our customers choose the perfect product for their little one, we have put together a table comparing the features of each series. This table will allow you to easily compare and decide which Mambobaby float is best suited for your baby.
Here is the comparison table:
Models
series
Use age
Price
Color
Style
Breaststroke
Backstroke
Shanding
Tail
Canopy
Package Dimensions
Classic Edition
3-24 Months
$79.95 USD
Green/Blue/Pink
Mambofish/Shark/Flamingo

✔

✔

❌

✔

✔

19.69 x 17.72 x 5.91 inches

Deluxe Edition
3-24 Months
$89.95 USD
Purple/Orange
Leopard/Crab/Mermaid

✔

✔

❌

✔

✔

19.69 x 19.69 x 5.91 inches

Limited Edition
3-24 Months
$109.95 USD
Green/Purple/Yellow/Pink
Seashell/Colorfish/Honey

✔

✔

❌

✔

✔

20.87 x 20.08 x 5.91 inches

Special Limited Edition
3-48 Months
$129.95 USD
Gray/Green/Pink
Airplane

✔

✔

✔

✔

✔

21.65 x 20.87 x 5.12 inches

Lite Edition
3-24 Months
$49.95 USD
Green/Blue/Pink
Self-Inflatable

✔

✔

❌

❌

✔

6.69 x 6.69 x 3.15 inches

Fruit Edition
3-24 Months
$79.95 USD
Orange/Green
Tangerine/Watermelon

✔

✔

❌

✔

✔

19.69 x 17.72 x 5.91 inches

Folding Edition
3-24 Months
$79.95 USD
Green
Frog

✔

✔

❌

✔

✔

19.29 x 9.06 x 6.69 inches

Floating Bed
3-24 Months
$69.95 USD
Green
Self-Inflating

✔

✔

❌

✔

✔

6.69 x 6.89 x 5.51 inches