News
100 ideas to play the Large 12-Piece Wooden Rainbow Stacker
by Tony on Aug 07, 2023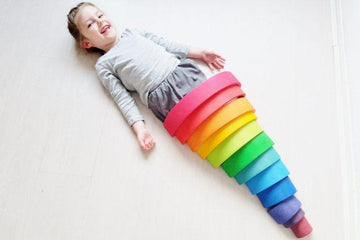 What age is Our 12-Piece rainbow suitable for?
This is a question that I regularly hear. either way. So from what age it is recommended and up to what age. Personally, I think he can be fun for children from one and a half years. They can discover and play with it. It is a toy that can take a beating and it has no small elements and is therefore not dangerous. The paint is also non-toxic, so putting it in the mouth is no problem. As your child gets older, it can do much more with it.
Does your child not play so much with it? Then put it aside temporarily, or present it in a slightly different way. Without too much distraction from other toys. It can also help if you put the toys in a fun way a few times in the morning so that your child is triggered to play with it and then get to work with it.
The beauty of the rainbow is that it remains fun toys, even for moms and dads. They can search for Instagram or Pinterest for examples and challenges to imitate the rainbow. Because of the round arches, it is quite a challenge to find balance.
Decoration
This colorful rainbow alone is a great decoration for the baby/children's room or in the living room. That's how I got to know it myself. During the music lessons on his lap, the teacher had him on the piano as a decoration. You can put the rainbow on a shelf or the windowsill, or in a letter tray. The alternatives in monochrome, natural or pastel colors also score highly.
Discover (Babies)
This toy is very suitable for babies to discover. By just holding the bows, feeling them, throwing something away and picking it up again. Maybe even put in the mouth. Even though this is not advisable, it luckily does no harm. And, of course, discovering also involves turning over the towers made by mum and dad!
Birthday cake (From the 1st birthday)
You can make a very beautiful birthday cake from the rainbow in combination with the half circles. You can brighten it up with the help of the annual rings and plugs. Or else using some ingredients from the wooden kitchen.
Mermaid & Gnome & Harness – Babies & Toddlers
Mermaid
Leprechaun
Knight
These always do well in the photos; the rainbow extended as a mermaid tail, or as a gnome's hat above the head.
Stacking (toddler & toddler)
Classic!
Nice stacking on the floor or in the air. For an extra challenge, you can combine this with the elements of water and fire or the gnome houses. Also very nice in combination with the rainbow friends so that they function as apartment houses.
Peekaboo (toddler)
The boxes made by the arches are very suitable for playing peekaboo.
Puzzling (toddler/toddler)

This can of course not be left behind; puzzling the rainbow together in the right order.
Bowling alley (toddlers/toddlers)
The rainbow is slightly extended when the goal is to roll the balls in by hand, to be hit with a golf stick or very carefully like a football.
With (Vtech test) cars (Toddler / toddler)
To drive over it, underneath as a tunnel, or as a track itself. Extra nice are the key cars that then make a noise. This also scores well in combination with the Wobble or Way-to-play.
With wooden train track (toddlers & toddlers)
In addition to cars, it can also be combined with a wooden train track by making tunnels, etc.
Coarse motor skills (deumes / toddler / toddler)
Hop step trail
Obstacle course
You can also use the arches very well if your child likes to be active. By making it a hop-and-skip course, for example, in which, in addition to the gross motor skills, balance and coordination are also very important as the circles become smaller and smaller. At the obstacle course, you can give your child various 'commands', such as over it, with both feet around it, circles around 'pilon' etc. He had thought of crawling under it himself, but that is not very realistic.
Playing with mirrors and symmetry (toddlers)
With a mirror underneath you also get very nice effects, the half-arches suddenly become circles. Even with small square mirrors, this can be a lot of fun. From an extended rainbow to a few arches stacked on top of each other or an inverted 'flower'.
Musical instrument
With the help of two sticks, you can use the arches very well as a xylophone!
3 marble courts (toddler / toddler)
Snake
Labyrinth
Music key
You turn the arches into a path that the marbles can roll over. If you let them spread something, they will roll harder and harder. But stop at the transition to the next arc. With or without trays (from the dolls to trays) at the end to catch the marbles. We used the marbles from the hubelino , but HECCEI itself also has wooden balls.
Slope track
A long marble path on a slope where the marbles roll down and are caught in the lower arch.
The holes in a flat can also be used for rolling or throwing a ball through. Equally a challenge not to hit the arches because it then 'collapses'.
Sorting – from large to small – Toddler & Toddler


Because the arches have a different size, you can easily practice what is big and small. For example, by stacking, even though the arches are half round. From a simple tower with all colors on top of each other to the most original works of art where you let the arches run both above and below. For stacking, the half discs are very fine (in color or blank). You can use these towers as apartment buildings for the dolls in trays. You can also sort them by the floor; as in this cochlear shape or as a long train.
Shuffleboard (toddlers)
You should actually have round discs for this. Marbles also work, but you have to think carefully about how fast you roll because otherwise, they will return with the help of white chalk you can still write points on the arches. You can easily remove this with a wet cloth.
To sort; with color (toddler)
The 12 colors of the rainbow are very suitable for practicing with colors. By asking to find an object of a certain color, or having your child name the color of an object. Then you can turn it into a game by asking the kids to have toys and objects search in the same color as the bow and sort them there.
For fantasy game (toddlers)
Toddlers creative brain has also devised two very nice purposes for these arches. Namely as a helmet on top of your head and then a competition who can balance the longest. Or as a hoop, unfortunately he did not do as well as she hoped. Nevertheless, she had a lot of fun and that's what it's all about? She also tried to stand on it, I thought that was not such a good idea because there are arches that broke that.
Small world play – Zoo (toddlers)
Great zoo
Animals in pens
The parade
In addition to balls, cars, and dolls, it is also fun to play with animals. We have used wooden animals and some Schleich animals. Ostheimer also has a very nice set. Like a large zoo, or in separate 'lofts'.
Small world play – Dollhouse (toddler)

From the arches, you can also build the walls of a house and furnish it with the furniture of a dollhouse. And then to play wonderfully.
Or how about this flat in combination with the half discs and the dolls in trays.
You can also make a swing out of the arches for the dolls' children!
11 examples of 2D images (toddlers)


Snowman Flower
Rose
Clown
Cloud
Elephant
Monkey
rooster
Starry sky
Star
For toddlers, you can make a game out of it by laminating these examples and then having them copied. From a clown/snowman to flowers in various designs and faces. This can encourage your child to 'draw' with bows themselves.
12 examples Stacking (from 4 to 99)
These examples are mainly about stacking. That must be done with considerable precision so that they do not collapse. Again from easy to difficult, where there are a few in between that you have to hold back the arches with your feet or need four pairs of hands.
13 examples Balance & Balance (from 4 to 99)
Group rocker
Tulip
golf
Dinosaur
Snail house / spiral staircase
Rose
Standing Flower
For these examples it's all about balance. And that can sometimes be quite a challenge with half-round arches. Tip; if it does not work on the floor, wet it a little so that it becomes rougher or put a rug under it. Then the chance is smaller that they will move.
Build 5 examples with circles (from 8 to 99)
You can make a round of two round arches. For these examples, it helps if you pinch the arches together so that they stay in place. Again from easy to difficult.
Alternatives 12 rainbow
The rainbow is our most popular product and is therefore available in various variants. On the photos you see the 12-part rainbow in color, in addition, you also have it in pastel, monochrome black and white version and made of white wood. That way you can see for yourself what you like or what best combines with other toys.
In addition to the 12-part rainbow, there are also smaller variants with 6 arcs. He is also a size bigger in an XXL variant with 6 large arches. However, these are hollow so that they are not strong enough to use as a slide or to sit like the wobble.