News
How do you clean a Mambobaby float
by Tony on Aug 07, 2023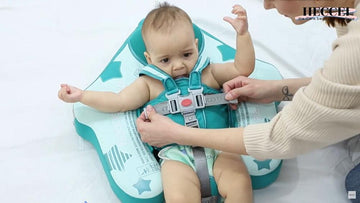 Do you confuse about how to clean a Mambobaby float? You may be extremely excited when you received the Mambobaby baby float. The safe float with cute designs and adorable colors looks so beautiful. After several times of carnival in the swimming pool, it may dirty. But how to clean this infant's neck float but avoid any damage?
The Constitution of Mambobaby float
To explain how to clean the Mambobaby float, we have to start with the product structure of the floatie. The solid foam inner of the Mambobaby float is wrapped with a skin-friendly PU or fabric cover, which is wrapped by a zippe
How to clean a mambobaby float for family use?
Generally, cleaning floaty should refer to cleaning the cover. In general, you only need to rinse it with water or wipe it with a soft fabric, and then dry it in a ventilated and shady place. Of course, this is for families who do not use the float so frequently.
As the manufacturer of Mambobaby float, we recommend parents buy waterproof PU or TPU covers. In this way, when your baby comes out of the water, the parents could dry the surface of the Mambobaby pool floats soon and put them into the room or car quickly. Surely, the baby floats need to be ventilated and hang to dry in the sunshade.
How to clean a mambobaby float for a baby spa?
As for the baby spa centers, they will prepare clean baby floats that have to be sterilized every time. The cover needs to be replaced every time for each little one. You could unzipper and take off the cover, wash it like your clothes, and let them wash and dry at low temperature along with the bath towels.
As the manufacturer of Mambobaby float, we strongly recommend they choose washable fabric material covers for customers from baby spas, because of the high frequency of use and washing.
Tips for washing
Here are some tips on how to clean a Mambobaby float you may concern about.
If you need to clean the air-free baby float, unzip the cover, take it off, and wash it by hand. Simply rinse the liner with water.
Low-temperature drying is required after each cleaning to avoid mildew.
Wipe and rinse the surface of the float with a moistened towel and a bit of neutral detergent. Do not scrub it.
Do not put the product in a washing machine or a dryer to avoid damagng its parts.
After each use, please erect or hang the baby float to dry in a ventilated place to avoid mildew.
As the zipper will not run smoothly on a curved surface, please pull it slowly.